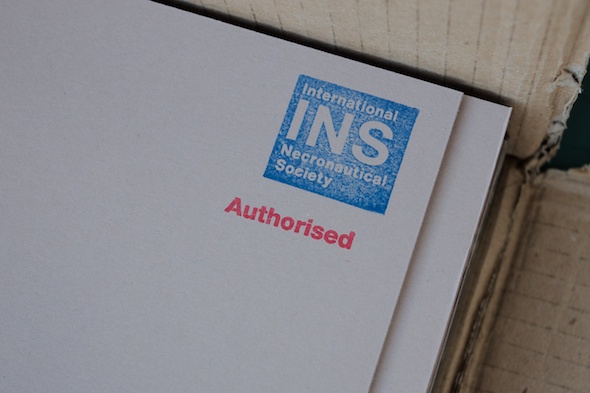 Navigation Was Always A Difficult Art
General Secretary's Report to the International Necronautical Society (Authorised Copy)
Tom McCarthy
numbered copy in manilla folder, black and white illustrations
14pp, 344 x 240 mm
2010
ISBN 9780956194725
The International Necronautical Society's founding manifesto declared an intent to map the spaces that open around the sign of death in the fields of literature, art, science and culture; to plot and to follow the paths that lead to these spaces. It also spoke of a 'craft': as the vehicle to be constructed, and as the practice to be identified and cultivated in order to realise the necronautical project.
In 2001 the International Necronautical Society (INS) was invited to take up residency for two weeks in the Office of Anti-Matter (Austrian Cultural Forum, 21 March–4 April). There, INS General Secretary Tom McCarthy received and interviewed writers, artists and philosophers whose work engages themes resonating with the concerns of the INS. The interviews (with among others, Simon Critchley, Rut Blees Luxemburg, Margarita Gluzberg, Will Self, Mark Aerial Waller) were transcribed and are published online. Tom McCarthy's report to the INS analyses and compares the depositions of his guests and suggests future directions for the INS.
This reprint of General Secretary Tom McCarthy's report to the INS is issued in accordance with the INS Declaration on Inauthenticity, and authorised by The INS Department of Propaganda.
£39.00 (last few remaining)
Tracked and signed-for delivery

add to basket with shipping to UK (£5.00)


add to basket with shipping to Europe, Northern Asia (£12.00)


add to basket with shipping to USA only (£16.00)


add to basket with shipping to Americas (other than USA), Africa, Southern Asia (15.00)


add to basket with shipping to Oceania (18.00)


 view basket
INV 0283